April 24, 2023
THE TACO -BILITIES ARE ENDLESS
What could possibly top the taco, one of the most beloved foods on the planet? Globally inspired guac and avo-powered condiments featuring fresh Avocados From Mexico, of course! Whether you serve 'em on Tuesdays or are gearing up for Cinco de Mayo celebrations, now's the perfect time to bring bold and exciting flavors to this tried-and-true category.
We know that operational simplicity and low-labor solutions are a "must" when it comes to adding new items to your menu. That's why, in this issue of The Fresh Take, we'll get you thinking about flavorful taco recipes that showcase the ease and versatility of fresh avocado as a tasty topper. It's just another reason why fresh is always good.

We've turned the oh-so popular poke bowl into a savory, mouthwatering taco recipe that really showcases the versatility of fresh Avocados From Mexico! Check out our Spicy Tuna and Avocado Poke Tacos video to see just how easily this dish can be prepared.
GUAC IS GOING PLACES
Tacos have evolved from traditional Mexican recipes to fusion creations that can turn any flavor combo into a handheld treat. Some of the fastest-growing taco ingredients—including cauliflower, pickled vegetables, sesame seeds, Cotija cheese and sweet potatoes5—demonstrate just how innovative today's taco recipes can be.
So, how can you tell a new taco flavor story while still alluding to the ingredients that make this dish a classic? The answer is globally inspired guac featuring fresh Avocados From Mexico! Check out these ideas for a world of flavorful creativity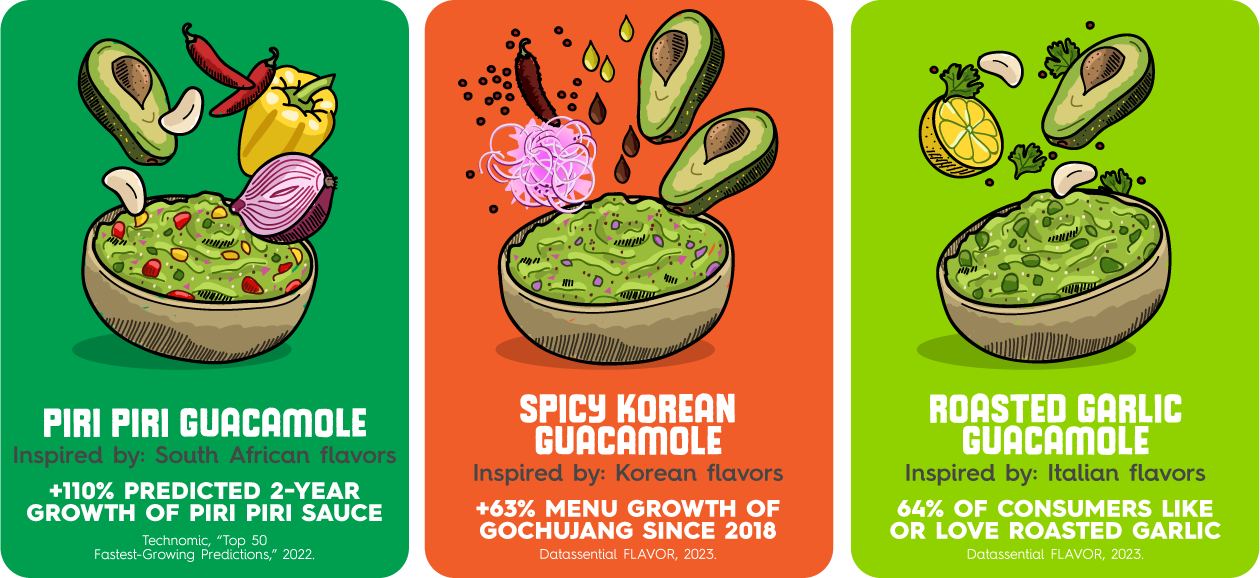 RECIPE INSPIRATION
Whether you're thinking classic or contemporary, tacos are the perfect vessel for creative signature flavors. And you can show off fresh avocado in all sorts of delicious applications, from marinated slices to unforgettable sauces. Find some inspiration in these recipes from our culinary team.
Nothing starts the day off right quite like breakfast tacos. This tasty mashup features scrambled eggs, sautéed onion and peppers, ham and fresh Avocados From Mexico in cheddar cheese wraps for a complete meal on the go.
Crispy Birria and Avocado Tacos
It's one of the hottest foodservice trends, made even better with roasted poblano guacamole featuring fresh Avocados From Mexico! It all starts with a mouthwatering braised beef recipe, and don't forget extra beef consommé for dipping.
Sweet, savory, tangy and spicy all at once, these tacos feature grilled garlic shrimp topped with marinated fresh Avocados From Mexico, pineapple pico de gallo, pickled red onion, queso fresco and avocado salsa verde.
Avocado Chimichurri Steak Tacos
Taking a cue from the Argentine classic, these tacos feature marinated flank steak dressed with roasted peppers, citrus slaw, pickled onion, avocado-roasted garlic aioli and avocado chimichurri sauce enhanced with fresh Avocados From Mexico.
Fresh Avocados From Mexico enhance every part of a taco recipe… even the tortilla! Here, avocado tortillas are filled with poblano verde chicken, avo-cabbage slaw, queso Oaxaca, cilantro and lime for a truly unique presentation.
GUAC N TACOS FOR NONCOMM OPERATORS
Attention noncommercial operators: are you looking for fresh ways to spice up theme night in the dining hall? Or keep employees on-site for lunch… or give healthcare patients and residents something to smile about at mealtime? We've got just the solution for you. Our Guac N Tacos turnkey program features the digital tools, recipes and point-of-sale pieces you need to execute a successful promotion in your operation. Materials are launching soon, so reach out to us to get started!
SEAL OF APPROVAL
Our 100% Fresh seal is a great way to show your customers they're about to enjoy an awesome dish with the fresh avocado they know and love.
WE'RE HERE FOR YOU
Whether you're looking for employee training, educational materials, traffic-driving promotional ideas or a collaborative recipe development session, Avocados From Mexico is here to help! Contact us to learn more about these partnership opportunities—or any other ways we can work together to solve your operational challenges.
1Dana Tanyeri, "Taco-Centric Concepts, Traditional and Next-Gen, are Primed for Growth," Foodservice Equipment & Supplies, January 3, 2023.
2Datassential MenuTrends, US menu penetration growth 2018-2022.
3Datassential, "FoodBytes: 2023 Food Trends," January 2023.
4Technomic, "Global Food & Beverage Consumer Trend Report," 2022.
5Datassential MenuTrends, US menu penetration growth 2018-2022.