January 12, 2023
TAKE HANDHELDS TO THE NEXT LEVEL
Handhelds are hot. They're staples on every menu, and your patrons love 'em in all forms—sandwiches, tacos, burgers, you name it. So how do you make an already great thing even better? The answer is simple: fresh Avocados From Mexico.
In this issue of The Fresh Take, we'll explore unique, trend-forward avocado toppings that will elevate your handheld menu to signature status. Jalapeño Pickled Avocados? Hatch Green Chile Avocado Mash? Avo Chimichurri? Avocado Cilantro-Lime Slaw? Yeah, we've got them all—and more. Read on for innovative recipe ideas from our chef team, along with insights to help add some green to your handhelds menu. Because as we like to say at Avocados From Mexico: fresh is always good!
FRESH AVOCADOS. FRESH PROFITS.
Fresh Avocados From Mexico give you the perfect opportunity to build your business. Consumers are willing to pay more to add fresh avocados to handheld menu items because they love the taste.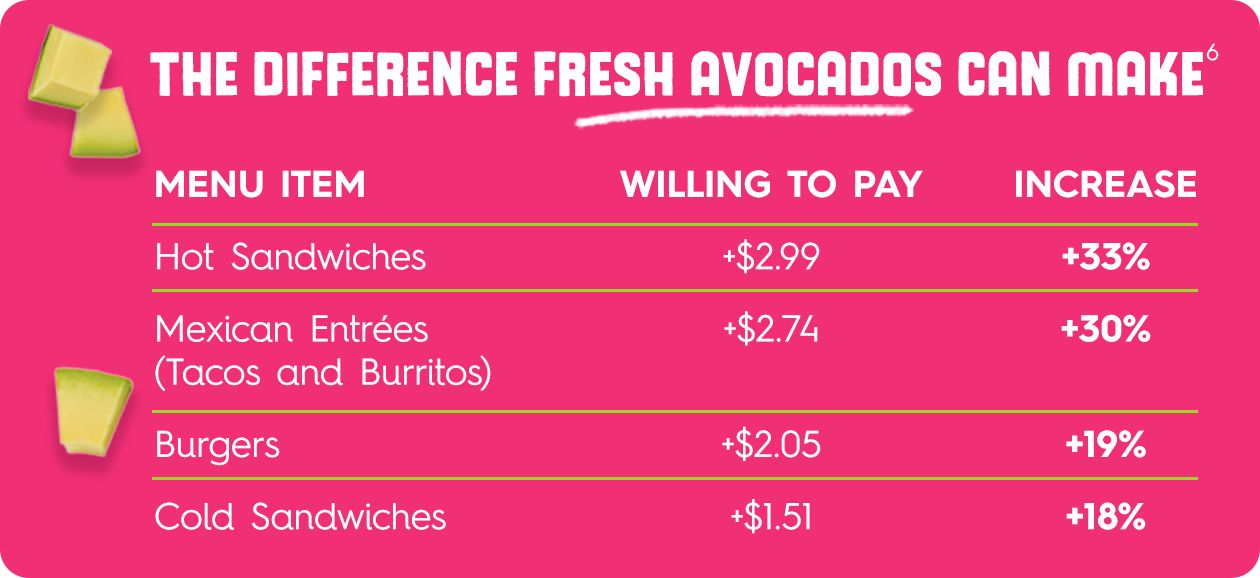 Join Chef Steven Inside the Avocado Kitchen as he plays with the balance of spicy and cool. He'll show you how to create an on-trend Fiery Chili Crisp Chicken Sandwich featuring our unbeatable Traditional Guacamole recipe.
THE FRESH UP
At Fenway Park, we gave baseball fans something to taco 'bout with the MVP of handhelds and AvoEats: the Walking Taco! "The Walking Taco topped with fresh guacamole has become a staple for Aramark here at Fenway," said George Middaugh, DM of Concessions for Aramark Sports + Entertainment. "Not only was it one of our most popular items in concessions, but it continued to grow over the course of the baseball season." Big thanks to our partners at Aramark for their support of fresh innovation and knocking this one out of the park. CHECK IT OUT
LET'S GET THE PARTY STARTED
Avocados From Mexico is helping noncommercial foodservice operators put a fresh spin on the beloved burger with our new turnkey program: Bold Burger Bash. It includes all the digital and customizable point-of-sale materials operators will need to get customers excited to try fresh avocado on their burger, including signature recipes. Click below to step up your burger game with fresh avocado. FIND OUT MORE
SEAL OF APPROVAL
Avocados From Mexico are always in season and available year-round. So, using our 100% Fresh seal on dishes featuring them is a great way to show your customers they're about to enjoy a truly delicious dish with the fresh avocado they know and love. When it comes to fresh, your customers can taste the difference. Learn more about our customized fresh seal program and partnership opportunities. TAKE IT TO FRESH
1Technomic, "Avocados From Mexico: Avocado Trends and Insights," Q3 2021.
2,5Technomic, "Avocados From Mexico: Handheld Research Study," March 2020.
3Datassential, MenuTrends, US menu penetration 2022.
4,6Datassential, "Avocado Trends," January 2022.