June 8, 2023
FRESH AVOCADO HEATS UP SUMMER MENUS
Fresh avocado brings the goodness to summer menus, whether it's featured in a bright and colorful salad, grilled for tacos or bowls, perfectly smashed for avo toast… the list goes on and on! And even though Avocados From Mexico are always in season, available year-round, today we're going to show you how summer dishes can truly shine with this powerhouse ingredient.
Get ready for some exciting recipes and chef tips in this issue of The Fresh Take as we look at how fresh avocado fits with the flavors that consumers look forward to eating during the summer months. We'll help you create on-trend LTOs to set your menu apart from the competition!

Join us Inside the Avocado Kitchen for a fresh and colorful salad that makes for an ideal grab-and-go option. Our Grab-N-Go Avocado Berry Salad features sliced avocado and a tangy avocado citrus dressing. Learn how it's done!
SUMMERTIME AVO-INNOVATION MADE SIMPLE
Not only is fresh avocado the ideal summer ingredient on its own, but it perfectly complements seasonal menu trends like barbecue and salad. Beyond classic ingredients like watermelon, corn and peaches, there are some interesting flavors shaping up summer menus. Take a look at some of the hottest ingredients of the summer… and where fresh avocado fits in!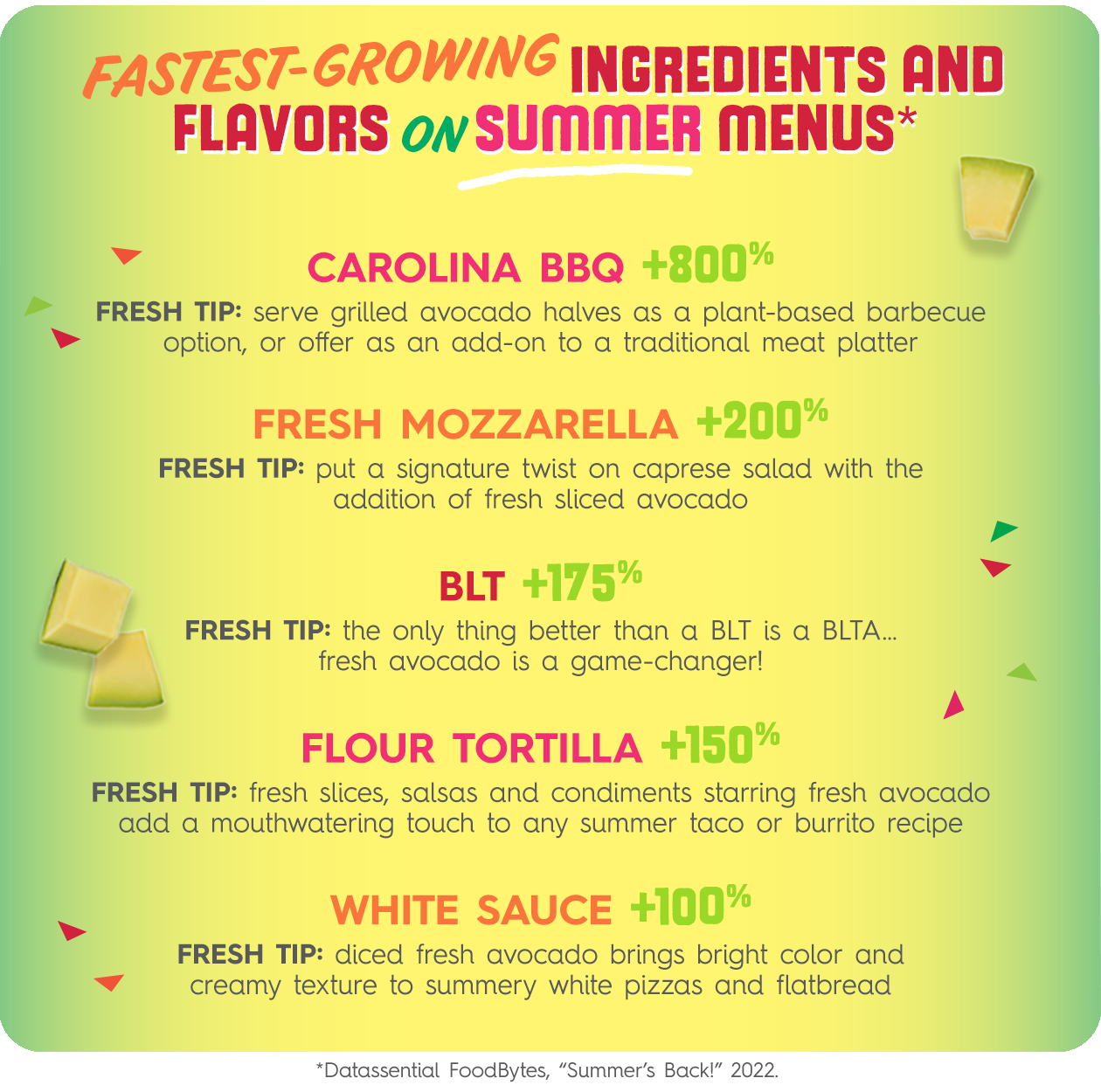 RECIPE INSPIRATION
No matter the daypart, fresh avocado can deliver a premium quality perception to your menu offerings. And that's especially true during the summer months, when consumers expect bright and colorful ingredients, fresh produce and delectable flavors. Fresh Avocados From Mexico fit the bill! Get inspired with these incredible recipes.
Lighten up brunch with thick slices of sourdough toast, topped with smashed fresh Avocados From Mexico, creamy burrata, halved cherry tomatoes and citrus basil avocado mousse.
Even burritos can get the summer treatment with fresh Avocados From Mexico! Fill a tortilla with cilantro-lime rice, Hatch green chile avocado mash, avocado salsa verde and roasted pork and serve with chorizo queso blanco.
Bring the summer vibes to your shareables menu with a mix of fresh Avocados From Mexico, pineapple, mango, jalapeño and tomato, seasoned with citrus juices and a kick from cilantro and red onion.
Want to ensure your customers save room for dessert? Add fresh Avocados From Mexico! Serve up these light and airy avocado shortcakes, topped with macerated strawberries and avocado mascarpone crème.
TURNKEY MENU PROGRAMS FOR NONCOMM OPERATORS
We love helping noncommercial operators add excitement to their dining options, making it easy to run themed promotions and special events. And one way we do that is through turnkey programs with all the digital tools, recipes and point-of-sale templates you need for success. Want to learn more? Reach out to us for details about our current Bold Burger Bash and upcoming Guac N Tacos programs.
WE'RE HERE FOR YOU
Whether you're looking for employee training, educational materials, traffic-driving promotional ideas or a collaborative recipe development session, Avocados From Mexico is here to help! Contact us to learn more about these partnership opportunities—or any other ways we can work together to solve your operational challenges.
GET IN TOUCH

1Datassential, "The Simply Smarter Webinar S4E11: The Innovation Episode," May 26, 2022.
2Avocados From Mexico, Blinded Consumer Taste Test Study, 2020
3Datassential, "Seasonal LTOs," 2022.