Avo-Success!
Avocados From Mexico has been pushing the envelope since its inception, creating avo-fans among shoppers and retailers alike. Check out our success stories as we establish avocados as a part of consumers lives, no matter the occasion!
Strip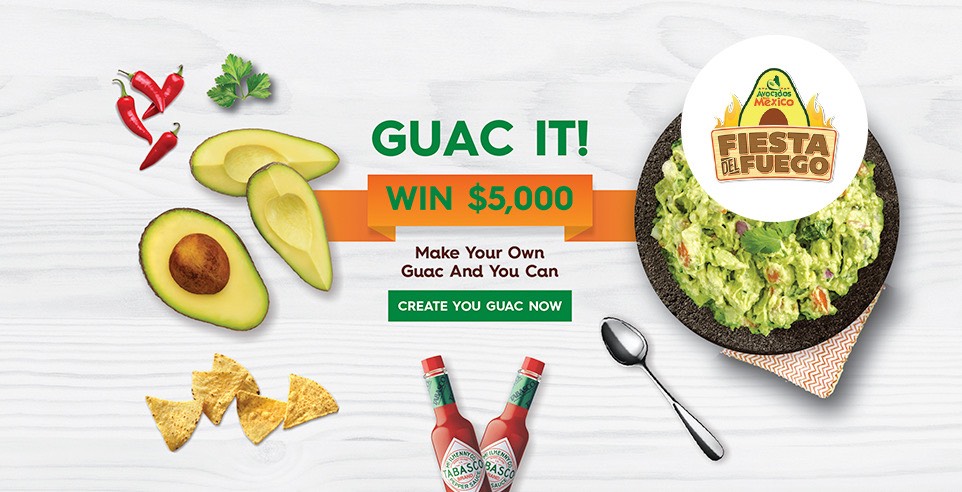 Fiesta Del Fuego,
Spring 2017
Showcased the good food and good times to be had during Cinco de Mayo with partner TABASCO ® Sauce, inspiring consumers in-store with festive recipes.
Results:
1
Touted AFM and TABASCO ®'s signature recipe, the TAVO (half an avocado sprinkled with TABASCO ® Sauce)
2
Sold in 10K display bins and distributed over 1.5M coupons strengthening avocados as the centerpiece for Cinco celebrations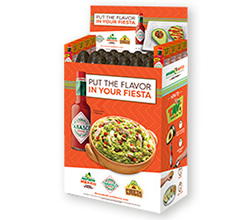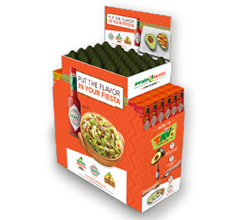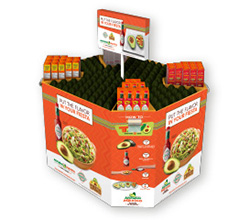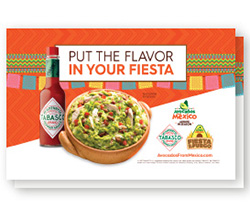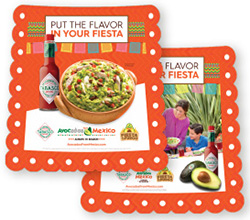 strip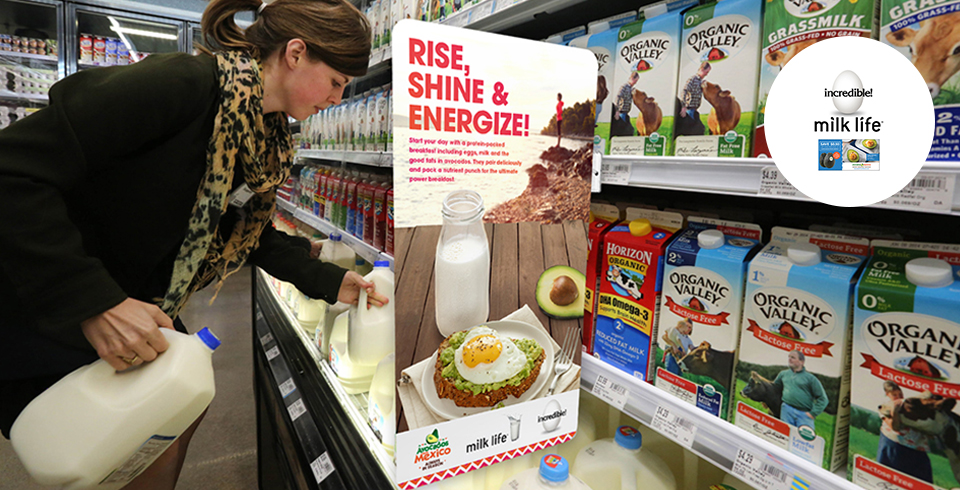 Incredible Milk Life,
Spring 2017
Partnered nationally with American Egg Board and MilkPEP to foster awareness of a nutritious breakfast, specifically through the Avocado Egg Toast with Milk recipe.
Results:
1
Expanded into the perimeter of the store for the first time, engaging shoppers in the produce, eggs, and dairy aisles with breakfast-focused in‐store signage across 4K Kroger, Safeway and Food Lion stores
2
Distributed 4.5M coupons – 3.5M Eggland's Best In-Pack Coupons and 1M Catalina coupons, all driving incremental volume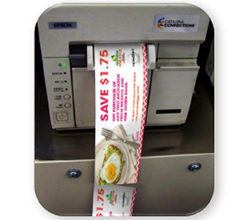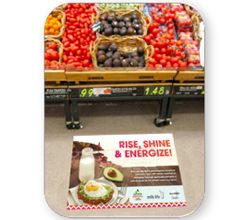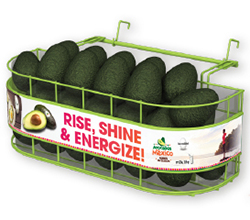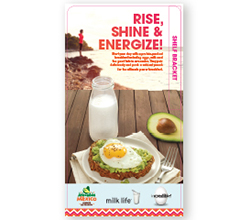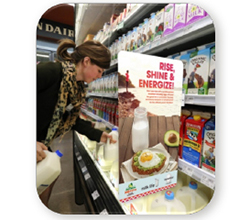 strip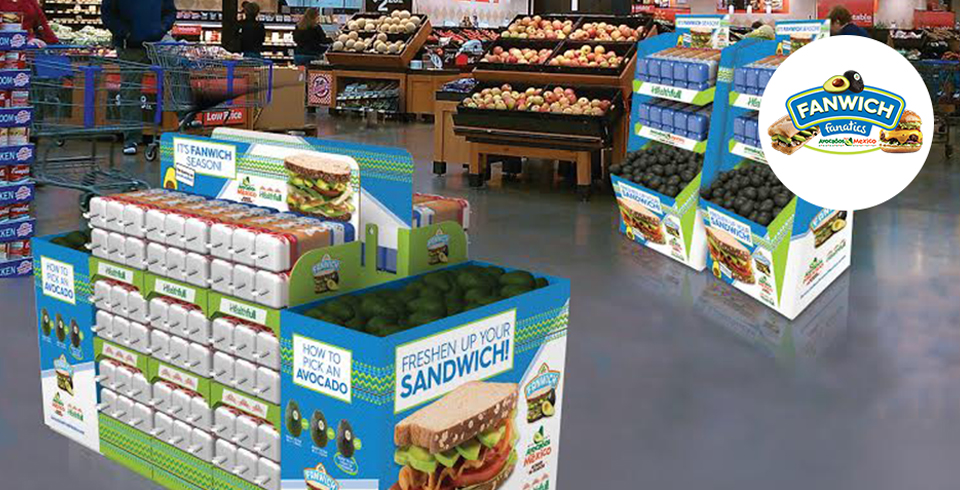 Fanwich, Spring 2017
Generated increased consumption by focusing on the handheld usage occasions and avocado's association with college basketball.
Results:
1
Strong retail support with 16.5K bins (+17% vs. PY) across 50 retailers
2
450K coupons via Coupons.com outperformed projected redemption rate of 14% (redeeming at 26.5%)
3
Built retailer traction and support with Fanwich National Display contest doubling number of entrants vs. PY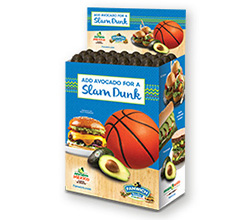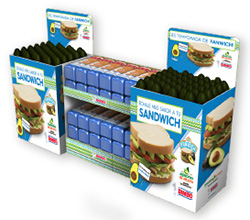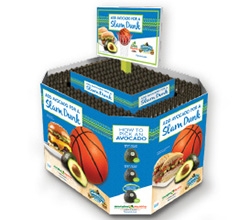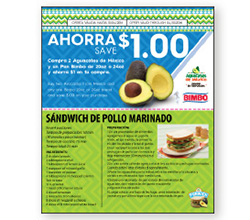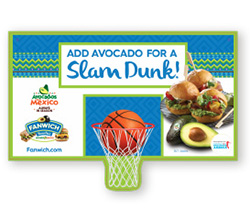 strip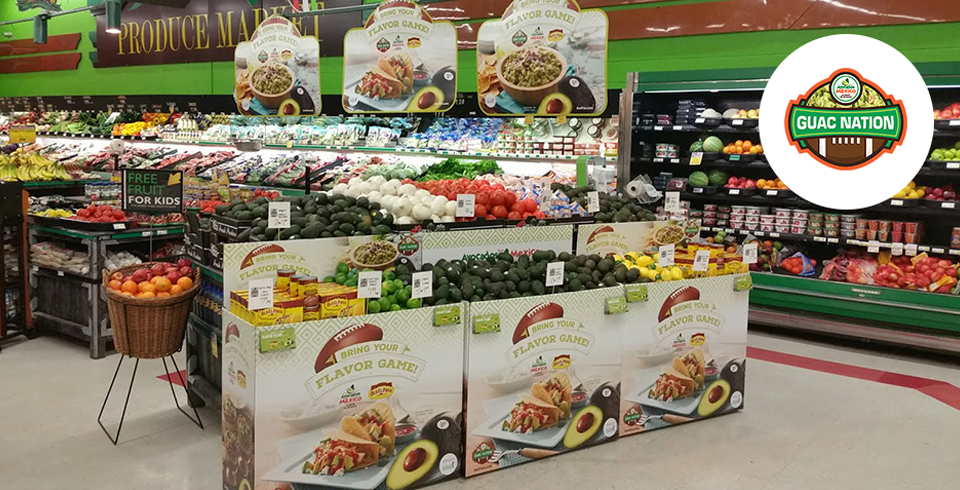 Guac Nation, Winter 2017
Partnered with Old El Paso ™ to help Big Game party hosts create a fun experience for their guests with delicious meal solutions and a party spread to remember.
Results:
1
Strong in-store presence from co-branded displays to over 23.4K AFM display bins (+15% vs. PY) driving impulse purchases in-store across 90+ retail chains
2
Built comprehensive digital campaign with Pinterest, Facebook, and 2M+ coupons
3
Drove strong engagement with the digital coupons over-redeeming by 75% due to increased demand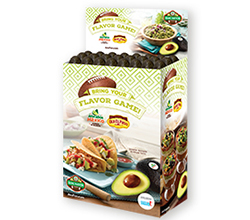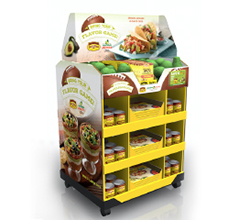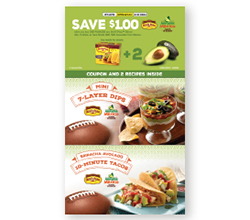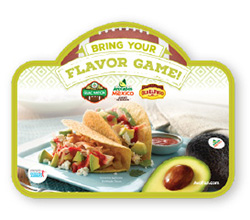 strip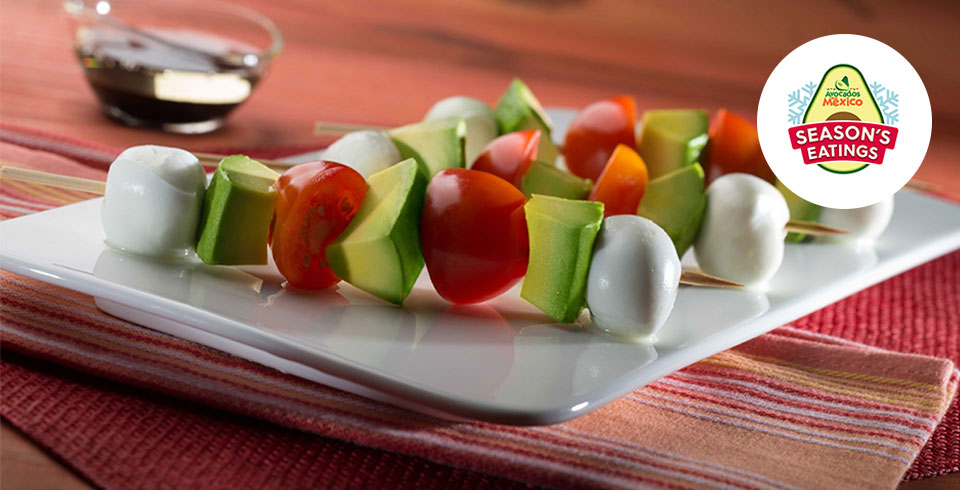 Season's Eatings, Fall 2016
Took leftover Thanksgiving turkey and festive appetizers during the holiday season to a whole new level with easy, crowd–pleasing recipes.
Results:
1
Drove demand and purchase during the holiday timeframe where shoppers were not normally thinking of avocados
2
Connected shoppers along the path to purchase through 10K displays placed in-store
3
Generated strong digital campaign engagement on social channels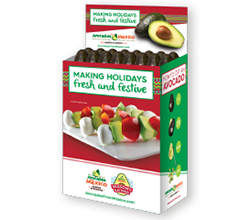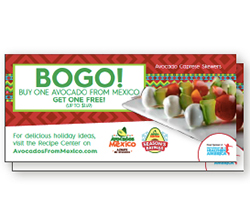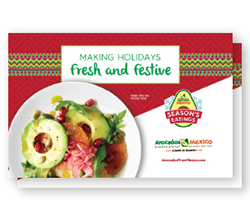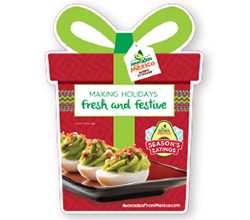 strip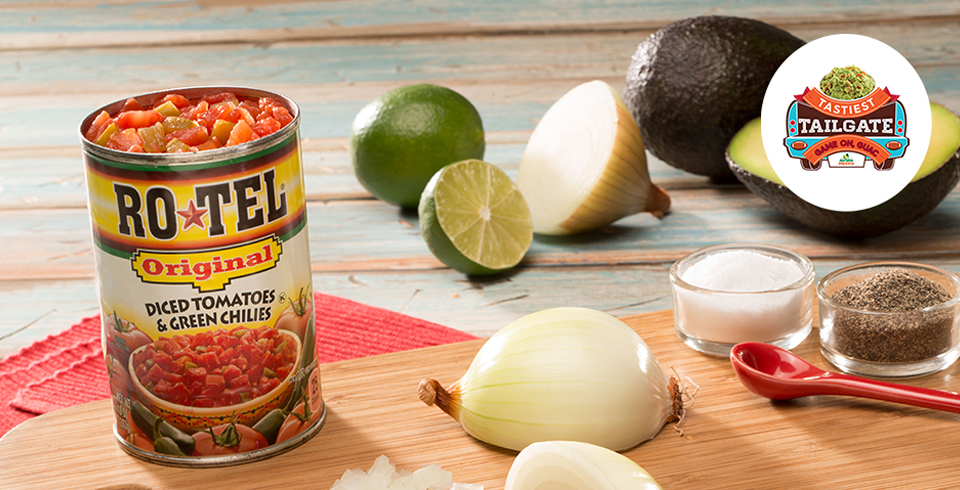 Tastiest Tailgate, Fall 2016
Reinforced the speed scratch recipe of Rockin' Guac during the fall football tailgating timeframe via partnership with Ro*Tel.
Results:
1
Drove 11K display bins and over 1M coupons in a fully integrated program that strengthened the guacamole usage occasion and avocado's association with football
2
Developed exceptionally engaging video content, driving over 2.5M views with 1.89% CTR (vs. standard of .63%)
3
Twitter results of 9.6 million impressions and 4,671 retweets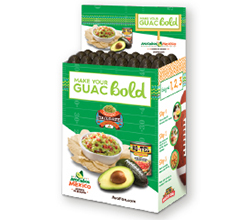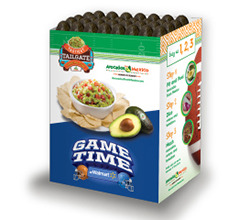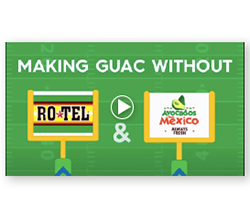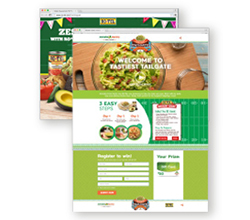 strip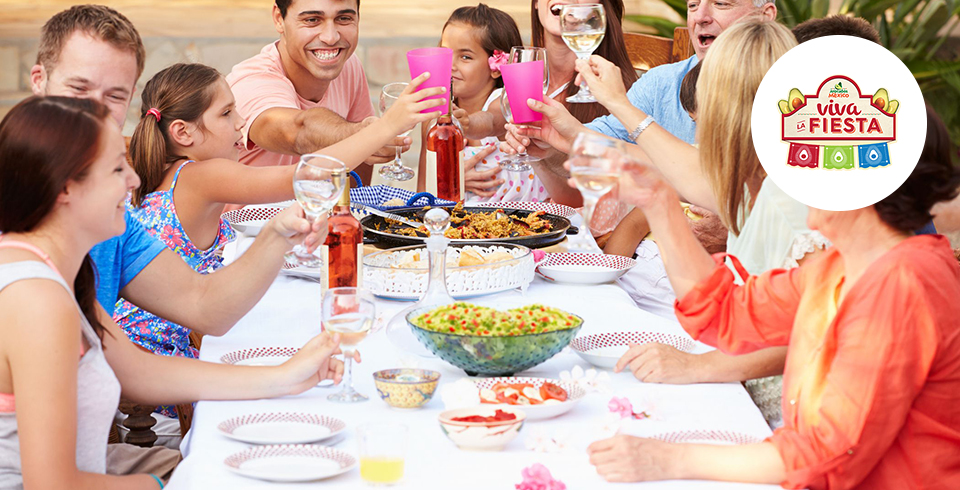 Hispanic Heritage Month
Celebrated Hispanic Heritage Month through authentic meal solutions that inspired the modern Hispanic mom to incorporate two beloved brands, Avocados from Mexico and TABASCO® Sauce.
Results:
1
Featured 2.2K displays and 880K coupons that were placed in key Hispanic retailer
2
Utilized auto-responder, Chirpify, that saw digital campaign performance metrics at an impressive 175.9M impressions.
3
Garnered paid social CTR of 2.83%, out-pacing standard CTR of .63%
4
Average time spent on site grow to 4:58 compared to AFM's benchmark of 1:01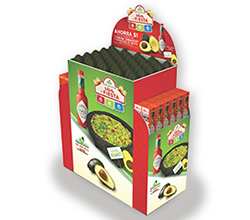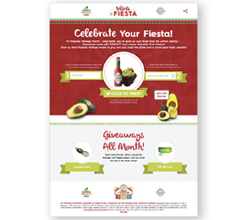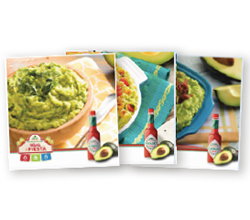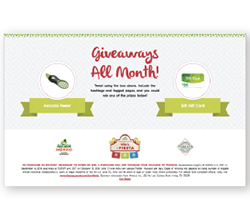 strip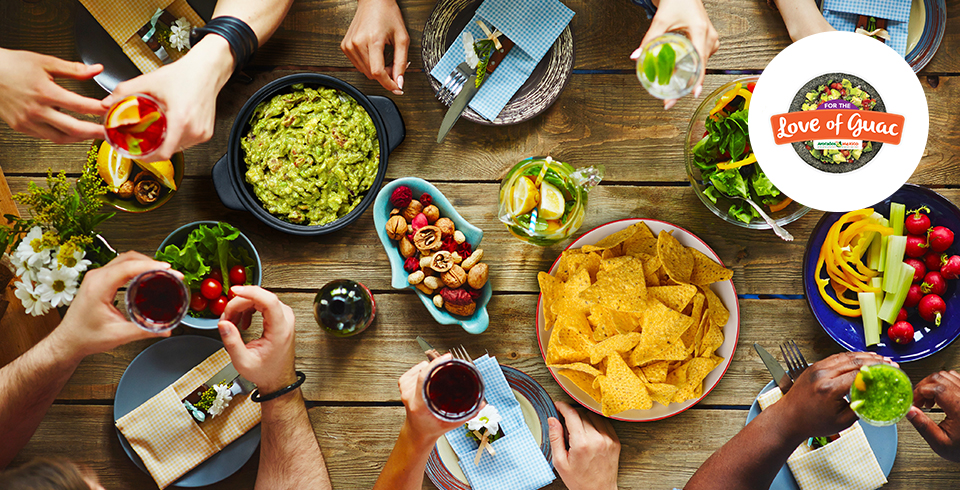 For the Love of Guac,
Fall 2016
September is filled with consumer excitement with the start of football to micro-consumer events like National Guacamole Day, Labor Day, Hispanic Heritage month. "For the Love of Guac" put avocados at center of the celebration and encouraged shoppers to share their love of guac!
Results
1
Drove in-store support with meal solution displays and POS across 6K stores
2
Boosted program awareness with national FSI garnering 31M impressions
3
BOGO offer outperformed Coupons.com produce category average by 8X, distributing 450K coupons with over 50% redemption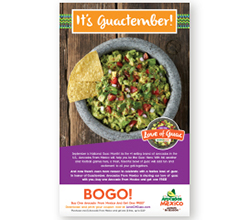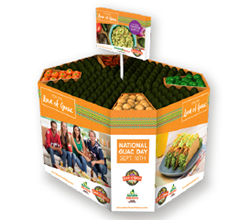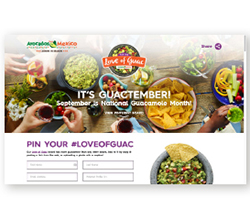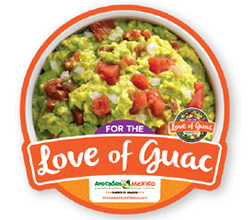 strip
Avocado Breakfast Club,
Fall 2016
Partnered with the Eat Brighter Movement ™ during the Back To School timeframe to encourage moms to start their kids' day off right with easy and nutritious breakfasts with avocados.
Results:
1
Promoted first ever Back to School program to expand avocado usage by introducing the breakfast day part
2
Drove in-store support by distributing over 7.5K display bins, 3.2M coupons, and in-store radio
3
Tied in with Mini Chefs launch driving significant online engagement with 200K video views, paid media, and unique recipes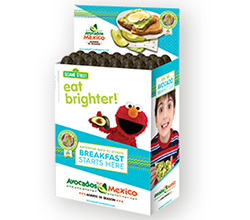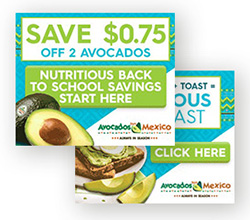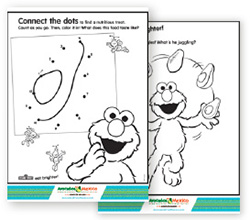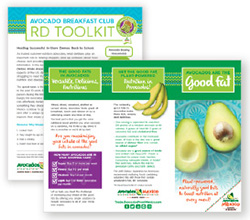 strip